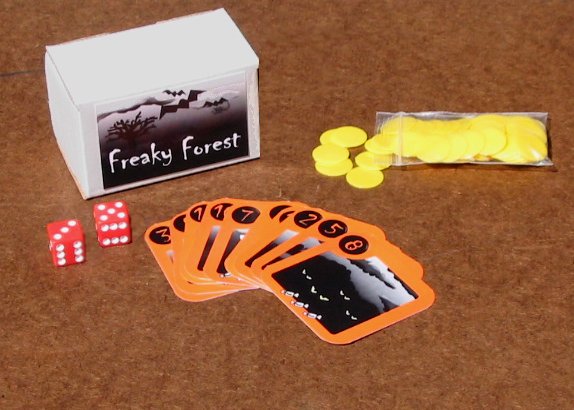 Freaky Forest--The Halloween Game
Perfect for Halloween parties, it's a spooky trip in the dark woods for 3 to 6 players.

After an evening of trick-or-treating you all take a shortcut through the scary woods by your homes. In a fright you lose your candy. Will you venture far back into the forest and retrieve lots of candy or will you get scared and lose it again? Each turn you'll have to decide how far to go. In the end the one with the most candy wins!

It's a B&W Game in color!

Freaky Forest is this year's push-your-luck game with a holiday theme. Each year I like to create a game with the family to sell around the holiday season. Last year we did Christmas. This time I had a simple game that could work with candy, so we went with a spooky feel for Halloween. My kids love it and beg to play so they can win some candy. The rules are very simple and as long as an adult or older player is in the group, children as young as five years old will be able to join in the fun with no trouble at all.

The box contains:
11 cards

2 dice

60 plastic chips

Rules
It takes about 15 minutes to play. Rules are included for fun variations including playing for candy and how to use the game to give out gifts at a party.

We're selling a limited number of copies through Fair Play Games for the low price of $4.50. Buy one or more and help support the Blanket Project.


---
Return to the B&W Games page.
Last updated September 11, 2008.